low
FODMAP
Fudge Brownie
A classic treat with none of the tummy trouble.
View Ingredients
Have a sensitive gut and craving a brownie that won't that won't leave you bloated? We get it. Each bar is packed full of rich chocolate, EXTRA chocolate chips and ONLY gut-friendly ingredients.
For a limited time, get a free Strawberry Shortcake box with any subscription!
2 boxes or more = free shipping
The best bits
✦ Low FODMAP
✦ Gluten-free
✦ Dairy-free
✦ Vegan
✦ 4g of dietary fiber
✦ Oven-baked
✦ No sugar alcohols
✦ Cinnamon, for stress—a common cause of IBS
✦ Apple cider vinegar, for digestive health
✦ REAL probiotics
Get free bars on us
Click below to redeem free bars at any of our retailers
Redeem Now
GI Doctors Love Them!
"These are delicious and perfect for someone with IBS. I love that they have probiotics"
Peyton Berookim, MD, Beverly Hills CA
Main ingredients
✨ Gluten free flour ✨
✨ Coconut Oil✨
✨ Dark Chocolate ✨
✨ Vanilla ✨
✨ Almond butter ✨
✨ Apple Cider Vinegar✨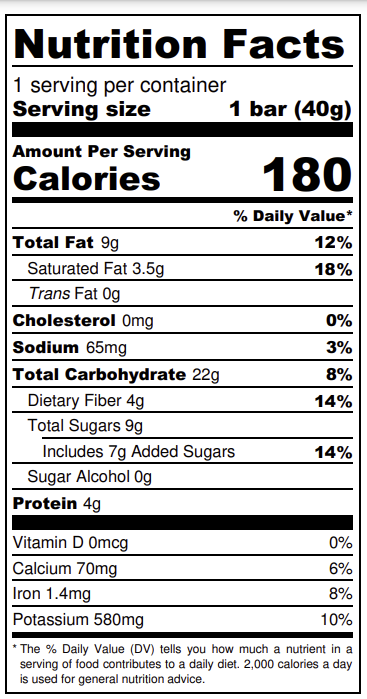 。・:*:・゚'★,。・:*:・゚'☆ Check out what's inside 。・:*:・゚'★,。・:*:・゚'☆
INGREDIENTS: ALMOND BUTTER, LIGHT BROWN SUGAR, OAT FLOUR, CHOCOLATE CHIPS (CANE SUGAR, CHOCOLATE LIQUOR, COCOA BUTTER), SORGHUM FLOUR, COCONUT OIL, OAT BRAN, BROWN RICE SYRUP, GLYCERINE, TAPIOCA FLOUR, COCOA POWDER, ACACIA FIBER, CHIA, NATURAL FLAVOR, RICE EXTRACT, SALT, APPLE CIDER VINEGAR, BACILLUS COAGULANS GBI 30-6086 (PROBIOTIC), MIXED TOCOPHEROLS (NATURAL VITAMIN E), BAKING SODA. *ORGANIC