Fudge Brownie
A classic treat with none of the tummy trouble.
low
FODMAP
Late-night snacking is back on the menu. Our baked fudge brownie bars never make your intestines feel icky—with added belly-boosting oats and acacia fiber.
For a limited time, get a free "Hot Girls Have IBS Mini Tote" with any subscription!
$26.96
2 boxes or more = free shipping
Add another flavor here
The best bits
✦ Low FODMAP
✦ Gluten-free
✦ Dairy-free
✦ Vegan
✦ 4g of dietary fiber
✦ Oven-baked
✦ No sugar alcohols
✦ Cinnamon, for stress—a common cause of IBS
✦ Apple cider vinegar, for digestive health
✦ REAL probiotics
Main ingredients
✨ Gluten free flour ✨
✨ Coconut Oil✨
✨ Dark Chocolate ✨
✨ Vanilla ✨
✨ Almond butter ✨
✨ Apple Cider Vinegar✨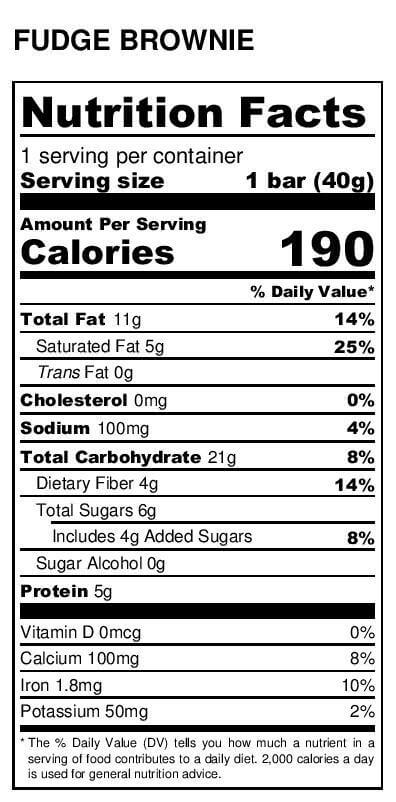 。・:*:・゚'★,。・:*:・゚'☆ Check out what's inside 。・:*:・゚'★,。・:*:・゚'☆
Belli Welli® Gluten Free Flour (Oat Flour, Sorghum Flour, Oat Bran, Tapioca Flour, Oats, Chia, Acacia Fiber), Almond Butter, Chocolate Chips* (Cocoa Mass*, Cane Sugar*, Cocoa Butter*), Coconut Oil, Glycerin, Brown Sugar, Cocoa (with Alkali), Brown Rice Syrup, Vanilla Extract*, Rice Extract, Apple Cider Vinegar, Sea Salt, Probiotic (Bacillus Coagulans GBI-30 6086), Baking Soda. *ORGANIC