low
FODMAP
Mint Chip
Soothing peppermint and gooey chocolate is our favorite classic combo
View Ingredients
If you liked candy cane fudge...you are going to LOVE this. Have a sensitive gut and tired of sweet treats that hurt your stomach or leave you bloated? We get it. Made with anti-inflammatory ingredients, each bar contains REAL probiotics (like the kind you find in a probiotic capsule) to boost gut health morning, afternoon, or night.
The best bits
✦ Low FODMAP
✦ Apple cider vinegar
✦ No sugar alcohols
✦ Dairy-free
✦ Gluten-free
✦ 3g of dietary fiber
✦ Oven-baked
GI Doctors Love Them!
"These are delicious and perfect for someone with IBS. I love that they have probiotics"
Peyton Berookim, MD, Beverly Hills CA
Main ingredients
✨ Oats ✨
✨ Chia✨
✨ Apple Cider Vinegar✨
✨ Acacia Fiber ✨
✨ Vanilla ✨
✨ Peppermint ✨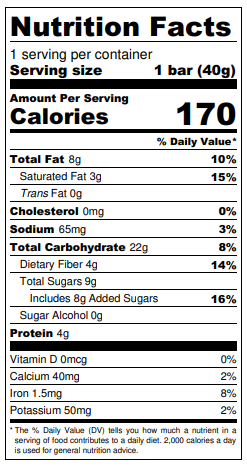 INGREDIENTS: BELLI WELLI GLUTEN FREE BLEND (OAT FLOUR, SORGHUM FLOUR, OAT BRAN, TAPIOCA FLOUR, ACACIA FIBER, CHIA), ALMOND BUTTER, BROWN SUGAR, COCONUT OIL, CRUSHED CANDY CANES (CANE SUGAR, CORN SYRUP, VEGETABLE JUICE, CARAMEL COLOR, PEPPERMINT OIL), BROWN RICE SYRUP, CHOCOLATE CHIPS* (CHOCOLATE LIQUOR*, CANE SUGAR*, COCOA BUTTER*), GLYCERINE, COCOA POWDER, PURE VANILLA EXTRACT, RICE EXTRACT, SEA SALT, DARK CHOCOLATE NATURAL FLAVOR, APPLE CIDER VINEGAR, BACILLUS COAGULANS GBI 306086 (PROBIOTIC) , MIXED TOCOPHEROLS (ANTIOXIDANT FOR FRESHNESS), BAKING SODA, PEPPERMINT OIL. *ORGANIC