2,578 5-star reviews
Probiotics
in a brownie
instead of a pill

$26.96 /BOX (Each box contains 8 bars)
Free of IBS triggers
Monash low FODMAP certified
Gluten-free, dairy-free and vegan
Good source of fiber
4grams of protein in every bar
Real probiotics
low
FODMAP
Cinnamon Swirl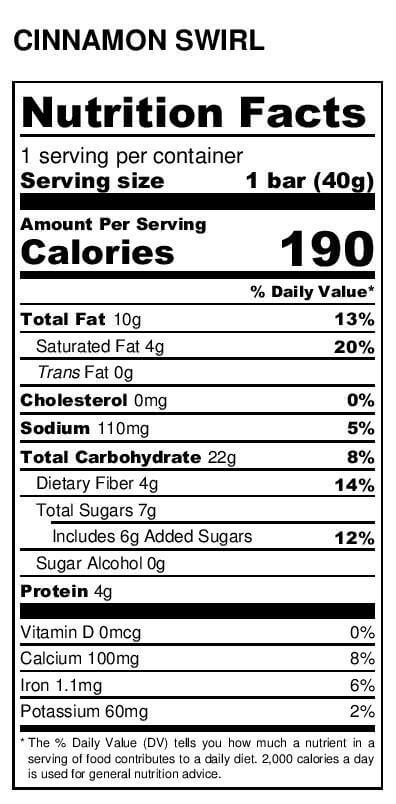 Belli Welli® Gluten Free Flour (Oat Flour, Sorghum Flour, Oat Bran, Tapioca Flour, Oats, Chia, Acacia Fiber), Almond Butter, Oat Flour, Creamy Chips (Cocoa Butter*, Raw Cane Sugar, Tapioca Starch, Rice Syrup, Rice Maltodextrin*, Vanilla*), Coconut Oil, Glycerin, Brown Sugar, Brown Rice Syrup, Vanilla Extract*, Cinnamon, Rice Extract, Sea Salt, Apple Cider Vinegar, Probiotic (Bacillus Coagulans GBI-30 6086), Baking Soda. *ORGANIC
Fudge Brownie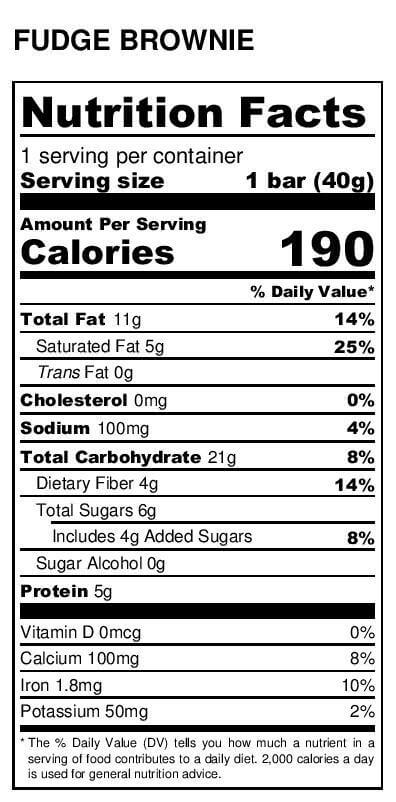 Belli Welli® Gluten Free Flour (Oat Flour, Sorghum Flour, Oat Bran, Tapioca Flour, Oats, Chia, Acacia Fiber), Almond Butter, Chocolate Chips* (Cocoa Mass*, Cane Sugar*, Cocoa Butter*), Coconut Oil, Glycerin, Brown Sugar, Cocoa (with Alkali), Brown Rice Syrup, Vanilla Extract*, Rice Extract, Apple Cider Vinegar, Sea Salt, Probiotic (Bacillus Coagulans GBI-30 6086), Baking Soda. *ORGANIC
Birthday Cake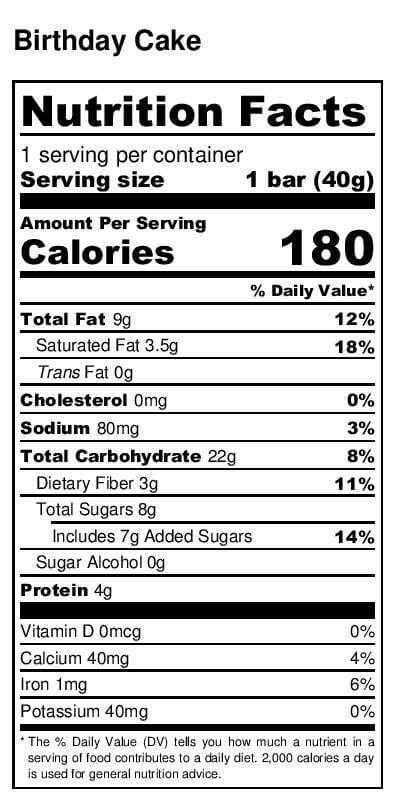 Belli Welli Gluten Free Flour Blend (Oat Flour, Sorghum Flour, Oat Bran, Tapioca Flour, Oats, Chia, Acacia Fiber), Almond Butter, Coconut Oil, Glycerin, Creamy Chips (Cocoa Butter*, Raw Cane Sugar*, Tapioca Starch*, Rice Syrup*, Maltodextrin*, Vanilla*), Brown Sugar, Birthday Confetti (Sugar, RSPO Palm Fat, Potato Starch, Rice Flour, Corn Starch, Anthocyanins (Plant Pigments), Riboflavin, Turmeric, Natural Flavor, Citric Acid), Brown Rice Syrup, Natural Birthday Cake Flavor*, Rice Extract, Apple Cider Vinegar, Sea Salt, Mixed Tocopherols (antioxidant for freshness), Bacillus Coagulans GBI-30 6086 (Probiotic), Baking Soda. *Organic Contains: Almond, Coconut
Lemon White Chocolate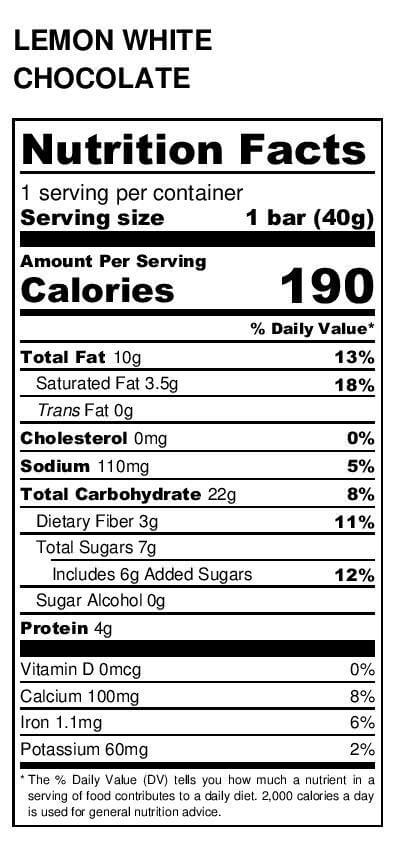 Belli Welli Gluten Free Flour (Oat Flour, Sorghum Flour, Oat Bran, Tapioca Flour, Oats, Chia, Acacia Fiber), Almond Butter, Creamy Chips (Cocoa Butter* , Raw Cane Sugar*, Tapioca Starch*, Rice Syrup*, Rice Maltodextrin*, Vanilla*), Coconut Oil, Glycerin, Brown Sugar, Brown Rice Syrup, Vanilla Extract*, Sea Salt, Rice Concentrate, Lemon Powder, Lemon Oil, Probiotic (Bacillus Coagulans GBI-30 6086), Apple Cider Vinegar, Baking Soda, Mixed Tocopherols (antioxidant) *Organic
Strawberry Shortcake
INGREDIENTS: BELLI WELLI GLUTEN FREE BLEND (OAT FLOUR, SORGHUM FLOUR, ROLLED OATS, TAPIOCA FLOUR, OAT BRAN, CHIA, ACACIA FIBER), ALMOND BUTTER, STRAWBERRY CRUMBLES (STRAWBERRIES, CANE SUGAR, ASCORBIC ACID (VITAMIN C)), COCONUT OIL, LIGHT BROWN SUGAR, GLYCERINE, BROWN RICE SYRUP, CREAMY CHIPS (COCOA BUTTER* , RAW CANE SUGAR*, TAPIOCA STARCH*, RICE SYRUP*, MALTODEXTRIN*, VANILLA*), NATURAL FLAVORS, RICE EXTRACT, APPLE CIDER VINEGAR, SEA SALT, LEMON POWDER, BAKING SODA, BACILLUS COAGULANS GBI 30-6086 (PROBIOTIC), MIXED TOCOPHEROLS (ANTIOXIDANT FOR FRESHNESS). *ORGANIC CONTAINS: ALMOND, COCONUT
Gut health matters
#

HotgirlshaveIBS
What's inside each bar?
Fiber
Probiotics
Protein
What's not inside?
No dairy
No wheat
No sugar alcohols
Low FODMAP
low
FODMAP
I've been a longtime *hater* of granola bars, nutrition bars...anything bar-related. They are all dense and cumbersome and just plain gross. *Until* I tried BelliWelli; I legitimately crave these bars, the texture is great and I am SO happy a solution like this exists for gut issue girlies (and low blood sugar girlies who need a snack on the go) thank you BelliWelli!
When I came across an ad for BelliWelli Bars I was a bit sceptical. I thought do I really want to risk more money on a gluten free bar that will (like all the others I found) taste horrible or have a bad texture? I read the reviews and decided I would try it. I AM SO SO SO SO GLAD I DID!!!! BelliWelli Bars are absolutely perfect!! Chocolate chip is my favorite so far! It literally tastes like a soft chocolate chip cookie!!! All the others bars are super great too!! I haven't found one yet that I do not like! If you are looking for a great tasting, perfect texture gluten free bar then look no further. BelliWelli IS IT!!!!!!!!!!!!!!
I had no idea what to expect with these little gems, but my tummy really enjoyed them. I chose this based on recommendation from Willow Pill's fav choice, but also got a variety box. Personally, I think I liked the lemon ones better, but both flavors are soooo good with my coffee in the morning. They fill me, keep my tummy happy, and don't upset my IBS. What more could I ask for?
Courtney D. Verified Buyer
These are GREAT!! I'm allergic to darn near everything. Ive had to cut so much out of my diet. Even doing that, almost every time I eat I typically have some level of digestive reaction. I've gotten used to it. I was SHOCKED when I ate these, and waited for the usual stomach grumbles, but they never came!! Finally a snack I can have that tastes great, isn't horrible for me AND leaves me feeling great after with absolutely no gut reaction at all. I'm hooked!!
Loved getting to taste the different flavors and ended up ordering more boxes and a subscription. Not only were they easy on my gut but I was pleasantly surprised to not experience heartburn, which is rare (for me) when the flavors are "cinnamon swirl" or "blueberry muffin." I came for the Willow Pill endorsement but will definitely be buying more in the future
I am horrible at remembering to take probiotics but I can remember to eat a cookie! These are tasty and do your body so much good. I am currently doing the Low FODMAP elimination diet but I suspect I'll keep eating these long after my diet is over! Thank you BelliWelli.
6 ways to eat BelliWelli
Breakfast
Workout
On the go
Midnight Snack
Travel
Lunchbox Treat
Ingredients mean everything.
In addition to skipping out on the trigger foods, each of our bars includes a healthy dose of belly BFFs like oats, probiotics and ginger.
Acacia Fiber
Not only is it an excellent source of fiber, tapioca fiber prebiotic benefits for gut health and digestion.
Almond Butter
Protein & prebiotic-packed.
Probiotics
REAL probiotics Strain: BACILLUS COAGULANS GBI 30-6086
Chia Seeds
One ounce of fiber-packed chia provides protein, Omega-3 fatty acids & a wallop of micronutrients for just a single net carb.
Sorghum
The tiniest of ancient grains is also one of the mightiest, boasting impressive levels of iron, calcium, dietary fiber & (surprise!) Vitamin C.
Cinnamon
Anti-inflammatory superfood.
Oats
Heart-healthy, whole grain oats are an unbeatable source of beta-glucans--a soluble fiber that tag-teams with your liver to reduce LDL (bad) cholesterol.
Tapioca Flour
Easier to digest than other starches, tapioca flour is also a good source of calcium and rich in iron.
Ditch the gluten-free toast and vegan butter.
/
Replace with nutrient-dense, probiotic-packed BelliWelli breakfast bars.